It's that time of year with just over two weeks left to frantically wrap parcels and pop them under the tree. This year has been somewhat bonkers and so we thought we would show you how to have a Clever Christmas shopping from your sofa and let the postie wrestle with your gift delivery instead…no matter where in the world you're shipping to.
Here's a little table we whipped up for you to remind you when the postie will be making his final rounds.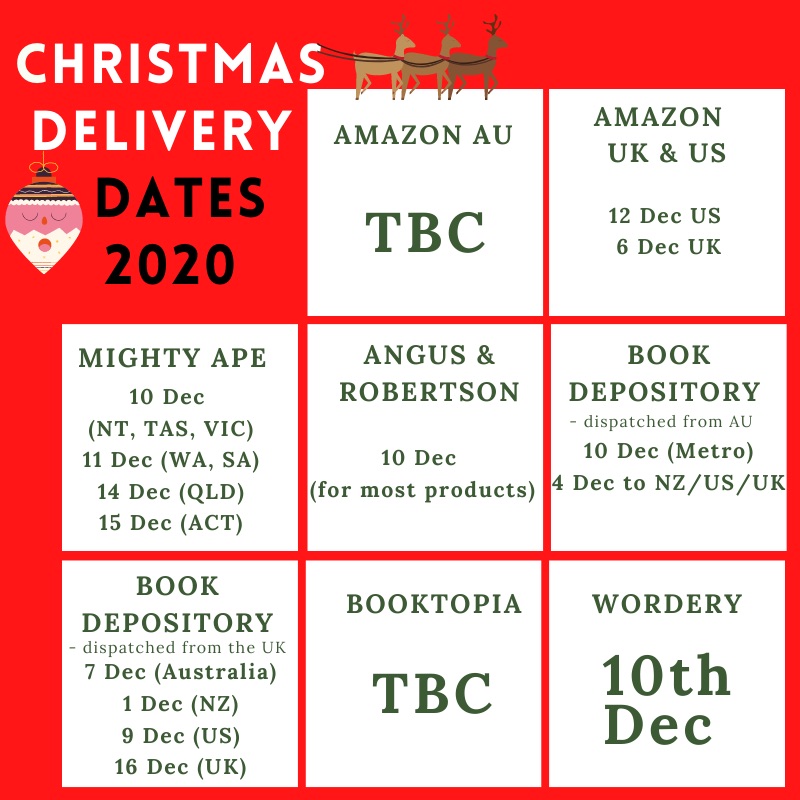 Handy Hint: If you are sending parcels overseas and have missed the dreaded cut off dates, fear not! You can simply change the location setting at the top right hand corner on the Booko website and shop like a local in that country.
We have made you a clever guide stepping you through the process which you can read here.
Stuck for gift ideas? Not to worry, the Booko team has been keeping an eye on which books have been popular this festive season for all ages. Sit back, have a read and then get clicking.
Mary Berry's Simple Comforts by Mary Berry
Mary is always a crowd pleaser and her baked creations never fail to delight. While you may want to keep this for yourself, if you do gift it, then there is always a chance that the recipient will invite you back for dinner! Win win.
Mary Berry shares over 120 of her ultimate food recipes, all made simply and guaranteed to get smiles around your kitchen table in her new cookbook. Mary's utterly reliable recipes are perfect for days when you want tasty and dependable food. Come home to the delicious simplicity of a Whole Roasted Squash with Garlic and Chilli Butter, or a warming Spicy Sausage and Red Pepper Hot Pot. Treat your family to Slow Roast French Lamb with Ratatouille, and spoil everyone with a decadent Frangipane Apple and Brioche Pudding. Featuring all the recipes from Mary's new series, plus many more fresh from Mary's kitchen, every single dish is accompanied by a photography of the finished food, so you know exactly what you're making. Each recipe includes Mary's trademark no-nonsense tips and techniques for getting ahead, and has been rigorously tested to make your cooking stress-free.
Nadiya Bakes by Nadiya Hussain
Here's another gift that may offer you a dinner (or possibly dessert) invitation. Nadiya Bakes is one series on Netflix that our family binged during our first lockdown and inspired the children to hop into the kitchen and whip up a storm.
At last, Nadiya returns to baking. This is her long-awaited reunion with her true love incredible cakes and bakes that we can all achieve at home. It's a fact that baking makes us happier and this book is bursting with recipes that will bring a little sunshine into your world and the lives of your friends, family and neighbours. Nadiya explores all areas of baking, conquering cakes and tray-bakes, no-bake bakes, tarts and pies, desserts, celebration bakes, biscuits and buns as well as breads and savouries. Recipes include Money-Can't-Buy-You-Happiness Brownies, Baked Chilli Churros, a beautiful Baked Rhubarb, Rosemary and Olive Oil Polenta Cake and a wow-factor Layered Honey and Soured Cream Cake. Yummo!
Guinness World Records 2021 by Guinness World Records
All aboard Guinness World Records 2021 for a life-changing journey of discovery! This year, there is a chapter devoted to the history of exploration, starting with the story of the very first circumnavigation, along with a "History of Adventure" timeline, featuring a host of remarkable achievements. The fully revised and updated best-seller is packed with thousands of incredible new feats across the widest spectrum of topics, providing a whistle-stop tour of our superlative universe. Travel through the Solar System and see the planets come to life with a free augmented-reality feature. Encounter the cutest, weirdest, most dangerous and exotic creatures on our home planet. Meet the world's tallest, shortest, hairiest and heaviest humans. Marvel at the latest high scores, speed runs and players at the top of their game in eSports and beyond. Get the lowdown on the world's most successful and prolific actors, musicians, TV stars and influencers. Review the greatest sports achievements from the past year and celebrate today's top athletes.
Code Name Bananas by David Walliams
David Walliams' stories are a delight to read, and always make us giggle. Code Name Bananas is his newest book and is sure to be a crowd-pleaser. Eleven-year-old Eric spends his days at the place that makes him most happy: London Zoo. And there's one animal in particular he loves: Gertrude the gorilla. With bombs falling all over London, Eric must rescue Gertrude. Together with his Uncle Sid, a keeper at the zoo, the three go on the run. But while hiding out at the seaside they uncover a top-secret Nazi plot… Join David Walliams on this action-packed, laugh-out-loud adventure for all the family!
Brickman's Family Challenge Book by Ryan McNaught
We're slightly biased with this book (ahem…Booko has a new website in the family www.bricko.info in case you need to buy for a LEGO fanatic).
Challenge each member of your household to a building competition that is the brainchild of Brickman himself, star judge of smash hit TV show LEGO® Masters and a LEGO Certified Professional. Each of the 30 challenges can be attempted at beginner, intermediate or advanced levels. So whether you're 5 or 105, an infrequent brick builder or a huge LEGO fan, these challenges will get you off your screens and get your creative juices flowing with even the most basic of LEGO collections. Including: Maze runner: build a maze with obstacles and design themes, Get crazy: roll a die to determine which hybrid model you need to build in under 2 hours – a Supersonic Banana Plane, anyone? Self-portrait: one of the hardest things to build with LEGO is curves, but Brickman helps you crack the techniques for building a recognisable 3D portrait of yourself. Packed with pro tips and suggestions on how to take your builds to the next level, as well as a 'know your bricks' glossary, this book will turn you into a Master LEGO Builder in no time. Do you know someone up to the challenge?
Stuff You Should Know: An Incomplete Compendium of Mostly Interesting Things by Josh Clark and Chuck Bryant
From the duo behind the massively successful and award-winning podcast Stuff You Should Know comes an unexpected look at things you thought you knew. Josh Clark and Chuck Bryant started the podcast Stuff You Should Know back in 2008 because they were curious. Curious about the world around them, curious about what they might have missed in their formal educations, and curious to dig deeper on stuff they thought they understood. As it turns out, they aren't the only curious ones. They've since amassed a rabid fan base, making Stuff You Should Know one of the most popular podcasts in the world. Armed with their inquisitive natures and a passion for sharing, they uncover the weird, fascinating, delightful, or unexpected elements of a wide variety of topics. The pair have now taken their near-boundless "whys" and "hows" from your earbuds to the pages of a book for the first time. Featuring a completely new array of subjects that they've long wondered about and wanted to explore. Each chapter is further embellished with snappy visual material to allow for rabbit-hole tangents and digressions, including charts, illustrations, sidebars, and footnotes. Follow along as the two dig into the underlying stories of everything from the origin of Murphy beds, to the history of facial hair, to the psychology of being lost.
Enjoy!