While we are all staying safe at home and turning to online shopping we thought we would make it a little easier for you to support your local stores. We have compiled a list of booksellers with local warehousing in Australia, the United Kingdom and the United States. Please note that some stores (such as The Book Depository, Boomerang Books, The Nile and Amazon) dispatch their products from various warehouses, so make sure you check where the product is getting shipped from and what the delivery estimate is.
Remember to ensure your local region is set to the country you are shipping to (this is done by clicking on the flag in the top right hand corner of the booko website). Also, it is important to check that the book, DVD, LEGO set or game you are looking to purchase is 'in stock' before clicking to buy, this will ensure a swift delivery time.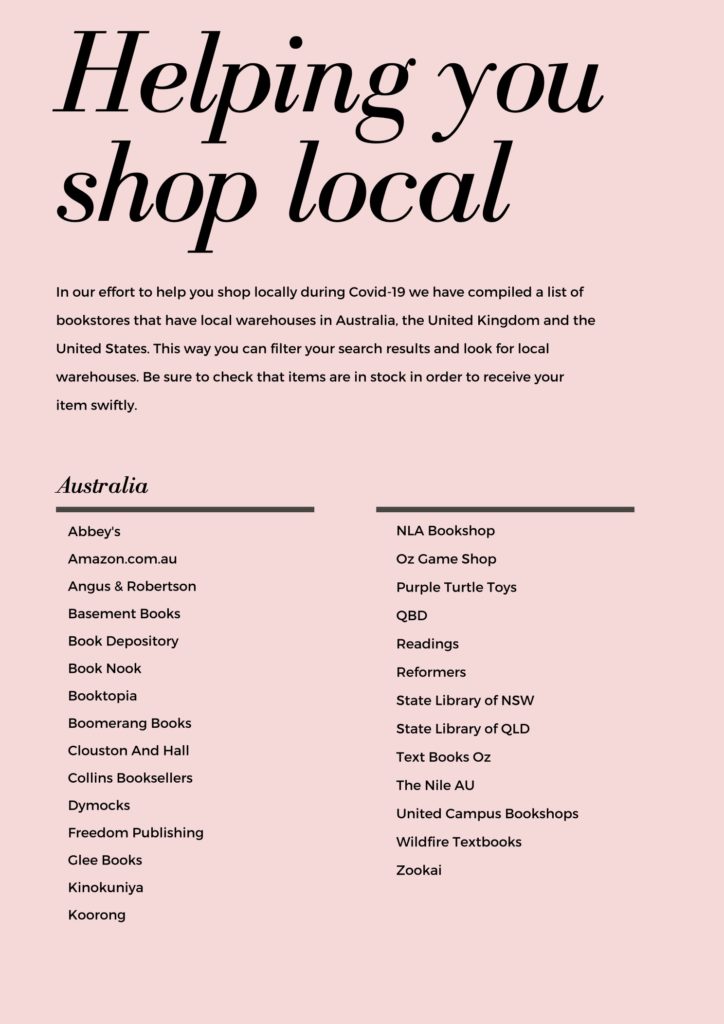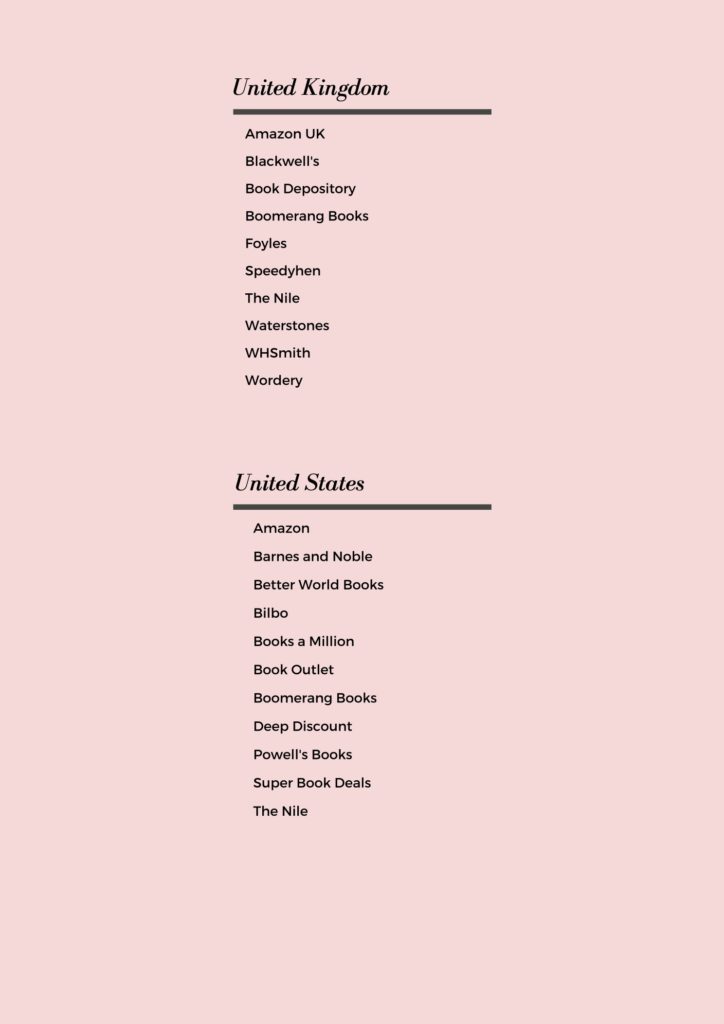 Booko is user-supported. When you buy through affiliate links on our site we may earn an affiliate commission. This doesn't affect the results of the searches.
Here are some of the top selling books in Australia, the United Kingdom and the United States.
Top Selling Books in Australia this month:
They're a glamorous family, the Caseys. Johnny Casey, his two brothers Ed and Liam, their beautiful, talented wives and all their kids spend a lot of time together – birthday parties, anniversary celebrations, weekends away. And they're a happy family. Johnny's wife, Jessie – who has the most money – insists on it. Under the surface, though, conditions are murkier. While some people clash, other people like each other far too much. Everything stays under control until Ed's wife Cara, gets concussion and can't keep her thoughts to herself. One careless remark at Johnny's birthday party, with the entire family present, starts Cara spilling out all their secrets. In the subsequent unravelling, every one of the adults finds themselves wondering if it's time, finally, to grow up.
The Mirror and The Light by Hilary Mantel
England, May 1536. Anne Boleyn is dead, decapitated in the space of a heartbeat by a hired French executioner. As her remains are bundled into oblivion, Thomas Cromwell breakfasts with the victors. The blacksmith's son from Putney emerges from the spring's bloodbath to continue his climb to power and wealth, while his formidable master, Henry VIII, settles to short-lived happiness with his third queen, before Jane dies giving birth to the male heir he most craves.Cromwell is a man with only his wits to rely on; he has no great family to back him, no private army. Despite rebellion at home, traitors plotting abroad and the threat of invasion testing Henry's regime to breaking point, Cromwell's robust imagination sees a new country in the mirror of the future. But can a nation, or a person, shed the past like a skin? Do the dead continually unbury themselves? What will you do, the Spanish ambassador asks Cromwell, when the king turns on you, as sooner or later he turns on everyone close to him? With The Mirror and the Light, Hilary Mantel brings to a triumphant close the trilogy she began with Wolf Hall and Bring Up the Bodies. She traces the final years of Thomas Cromwell, the boy from nowhere who climbs to the heights of power, offering a defining portrait of predator and prey, of a ferocious contest between present and past, between royal will and a common man's vision: of a modern nation making itself through conflict, passion and courage.
Top Selling Books in the United Kingdom this month:
In the next highly anticipated installment of Lee Child's acclaimed suspense series, Jack Reacher comes to the aid of an elderly couple . . . and confronts his most dangerous opponents yet. Once in a blue moon things turn out just right. This isn't one of those times. Reacher is on a Greyhound bus, minding his own business, with no particular place to go, and all the time in the world to get there. Then he steps off the bus to help an old man who is obviously just a victim waiting to happen. But you know what they say about good deeds. Now Reacher wants to make it right. An elderly couple have made a few well-meaning mistakes, and now they owe big money to some very bad people. One brazen move leads to another, and suddenly Reacher finds himself a wanted man in the middle of a brutal turf war between rival Ukrainian and Albanian gangs. Reacher has to stay one step ahead of the loan sharks, the thugs, and the assassins. He teams up with a fed-up waitress who knows a little more than she's letting on, and sets out to take down the powerful and make the greedy pay. It's a long shot. The odds are against him. But Reacher believes in a certain kind of justice . . . the kind that comes along once in a blue moon.
The Dark Side by Danielle Steel
The Dark Side is a powerful and unsettling novel of loss, motherhood and the innocence of childhood from the world's favourite storyteller, Danielle Steel. Zoe Morgan was just ten years old when her life changed forever. Her sister, Rose, died of a rare illness, her parents turned into people she didn't know, and Zoe's lonely childhood drove her to excel in her studies. As a graduate of Yale, Zoe takes a leave of absence from medical school to work in a shelter for abused children in New York, where she meets well-known child advocacy attorney, Austin Roberts. Austin is bowled over by her beauty, brains and talent. He is her first love and the man she marries. Austin and Zoe have a perfect life and, after the birth of their longed-for daughter Jaime, Zoe knows that the aching void she had lived through for twenty-four years is finally complete. But it is only then that the true impact of Rose's death all those years ago affects their lives in a way that nobody could ever have imagined.
Top Selling Books in the United States this month:
In Joy at Work, KonMari method pioneer Marie Kondo and organizational psychologist Scott Sonenshein will help you to refocus your mind on what's important at work, and as their examples show, the results can be truly life-changing. With advice on how to improve the way you work, the book features advice on problem areas including fundamentals like how to organize your desk, finally get through your emails and find what sparks joy in an open plan office. Like how the key to successful tidying in the home is by tackling clutter in the correct order, Joy at Work adapts the inspirational KonMari Method for the workplace, taking you step-by-step through your professional environment so that you can identify the most joyful way to work for you. Once you've found order in your work life, you can feel empowered to find confidence, energy and motivation to create the career you want and move on from negative working practices.
My Wife Said You May Want to Marry Me by Jason Rosenthal

On March 3, 2017, Amy Krouse Rosenthal penned an op-ed piece for the New York Times' "Modern Love" column —"You May Want to Marry My Husband." It appeared ten days before her death from ovarian cancer. A heartbreaking, wry, brutally honest, and creative play on a personal ad, in which a dying wife encouraged her husband to go on and find happiness after her demise. The column quickly went viral, reaching more than five million people worldwide. In My Wife Said You May Want to Marry Me, Jason describes what came next: his commitment to respecting Amy's wish, even as he struggled with her loss. Surveying his life before, with, and after Amy, Jason ruminates on love, the pain of watching a loved one suffer, and what it means to heal, how he and their three children, despite their profound sorrow, went on. Jason's emotional journey offers insights on dying and death and the excruciating pain of losing a soulmate, and illuminates the lessons he learned. As he reflects on Amy's gift to him, a fresh start to fill his empty space with a new story, Jason describes how he continues to honour Amy's life and her last wish, and how he seeks to appreciate every day and live in the moment while trying to help others coping with loss. My Wife Said You May Want to Marry Me is the poignant, unreserved, and inspiring story of a great love, the aftermath of a marriage ended too soon, and how a surviving partner eventually found a new perspective on life's joys in the wake of tremendous loss.
Enjoy and stay safe!