Hey Students, I know it's still the middle of January, and preparing for the start of Uni may be the last thing on your mind; but what if a few minutes' work now can help you save lots of dollars, that you can put towards your dream trip / job interview outfit / coffee budget? What I mean is, using Booko – and also Booko's Alerts feature – to help you find the best prices for your textbooks.
Academic textbooks can be breathtakingly expensive – a single title can be over a hundred dollars, so imagine how much your entire list will cost! You may have used Booko before to check prices for popular titles or gifts, but Booko can also be used to search for specialist or academic texts.  All you need to do is type a book's ISBN into the main search box (this ensures you are searching for the correct edition) and away you go.  Booko can find most books, whether they are e-Books, Reference books, Fiction or Non-Fiction.  And since Booko can locate used copies, you may be able to save even more by buying second-hand!
Booko Alerts is a set-and-forget feature that emails you as soon as a price falls below the current (or a specified) level.  Just click the Add an Alert button directly below the Cover Image on the left side of the page.  Nominate a preferred price, type in your email and the Alert is set.  Now all you need to do is wait for the Good News email!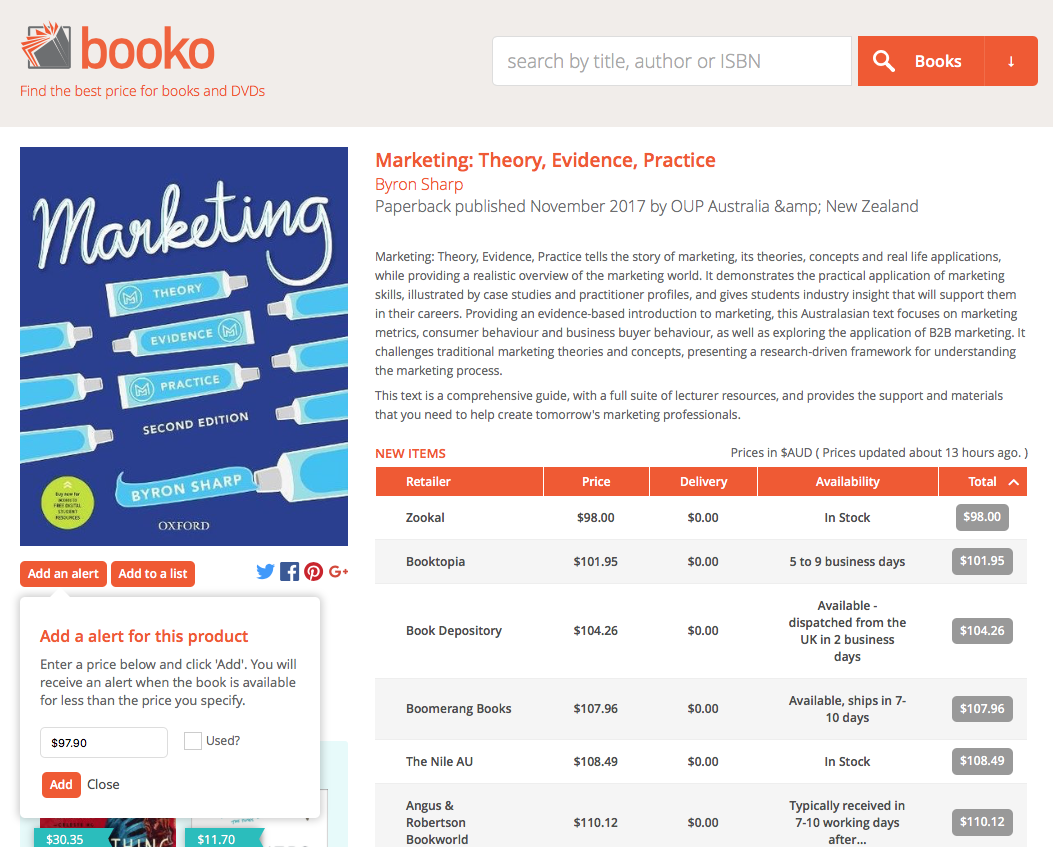 For more detailed instructions on Booko Alerts, click here for a step-by-step guide.
To give you some idea of the sort of savings achievable through Booko, here's a list of potential savings for some common academic texts.  The savings are based on comparing the best price and the prices charged by leading academic bookstores, as found by Booko.
A Guide to Business Law (21st edition) by Christine Miles and Warwick Dowler
Save approximately $35
On Beauty by Zadie Smith
Save approximately $7
Psychology (4th Australian and New Zealand Edition) by Burton, Westen and Kowalski
Save approximately $100
Microeconomics (Second Edition) by Goolsbee, Levitt and Syverson
Save up to $600
Oxford Handbook of Clinical Medicine (10th Edition) by Wilkinson et al
Save approximately $25