At Booko HQ, we love to help you find the best deals for the books you want… that way you can buy even more books, right? And not only can we help with the books you want to buy – the book-treats for yourself and your loved ones – but Booko can also help find discounts on the books you need – including textbooks for school and university, as well as specialist texts for professionals.
With just a few clicks or taps on your device, Booko can help you save up to hundreds of dollars. Here are some examples:
Macroeconomics Australasian Edition (4th edition) by Olivier J. Blanchard and Jeffrey R. Sheen
Savings for new copy up to $50 Savings for used copy up to $100
Gray's Anatomy for Students by Drake, Vogl and Mitchell
Savings for new copy up to $150
Savings for used copy up to $150
Integrated Chinese Level 1 Part 1 Workbook (3rd edition) by Yuehua Liu et al

Savings for new copy up to $50
Savings for used copy up to $60
Now read on for some step-by-step instructions:
Booko's standard search finds you the best prices for right now. For even better deals, Booko offers a set-and-forget Alerts and a Lists feature. Booko Alerts regularly checks the prices for your chosen items and will email you as soon as the price falls below the current (or a specified) level. It's a great way to monitor for sales. To set an Alert, first search for the book you want – if possible, use the ISBN to confirm the correct edition.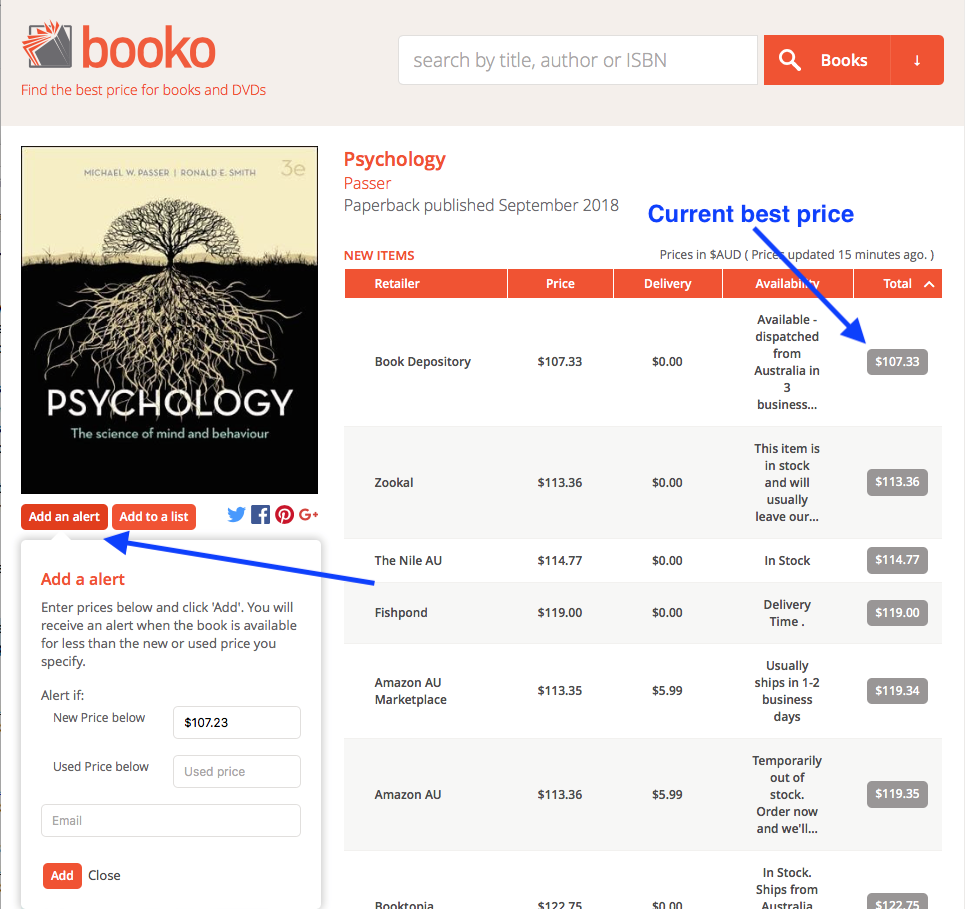 This shows the search for a Psychology textbook. The top listing on the Right is the current best price. To create an Alert, click the Add an Alert button below the Cover Image on the left side of the page. Set your preferred price – and you can set separate prices for new and used books. Then enter your email and click Add. Now all you need to do is wait for the Good News email!
If you are logged into your Booko account, you can set an Alert faster, because you won't need to enter your email each time. A Booko account allows you to modify your alerts (delete or change target prices) more easily, as a list.

A Booko account also allows you to set up Lists. These help you sort and group the books you are watching for. To add a book to a list, click the Add to List button below the Cover Image (next to the Add an Alert button). This adds the book to your Wishlist (the default list for each Booko account). To create more lists, click on the My Lists tab on the Top Right of the page, then click the Manage Lists button.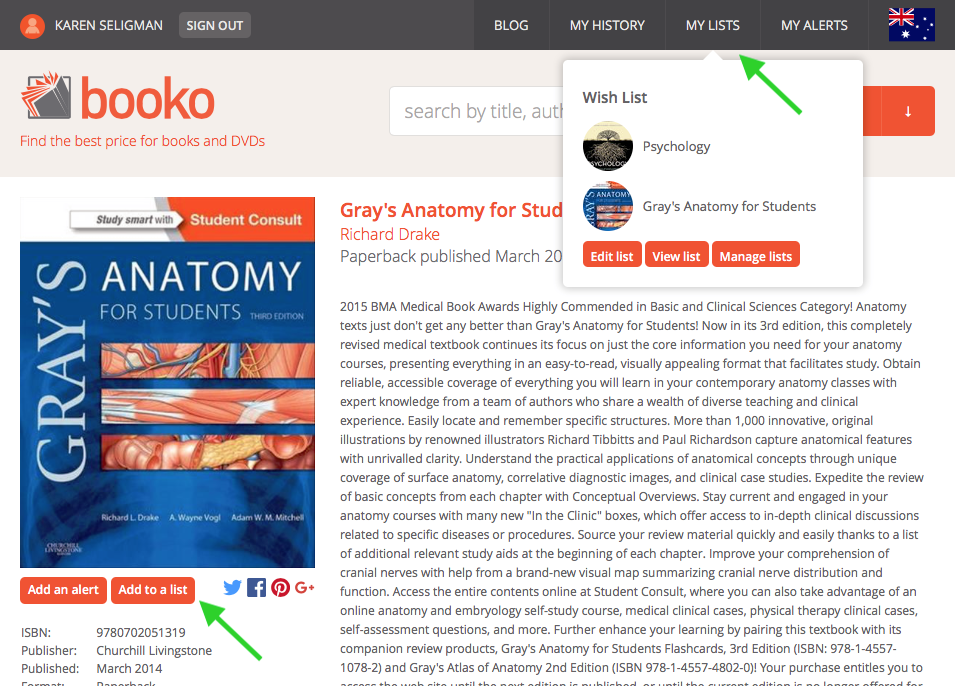 The Manage Lists option has several nifty features – here you create new personalised lists (A), View/Edit or Delete existing lists, or Export list data in a spreadsheet-friendly format (B). Booko will also tell you whether you can buy all your list items from a single store (C) – and do a price comparison as well.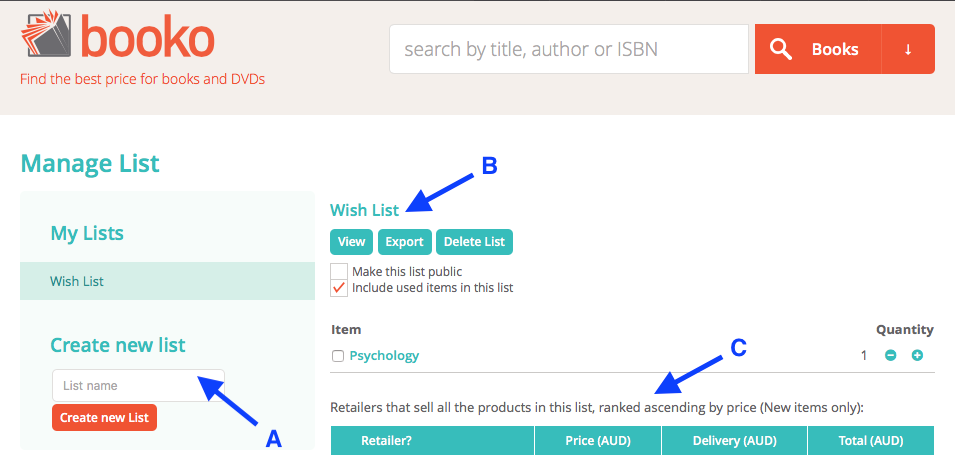 Booko Alerts and Booko Lists can help you minimise the time and money you need for your back-to-uni essentials – so that you'll have more time to relax before Semester starts!