2020 has been a year of ups and downs and with COVID restrictions changing all over the world, postage and deliveries have taken a little longer than usual. It's with this in mind that we have had a little dig around the internet and have rustled up this little delivery date table to help you with your festive shopping.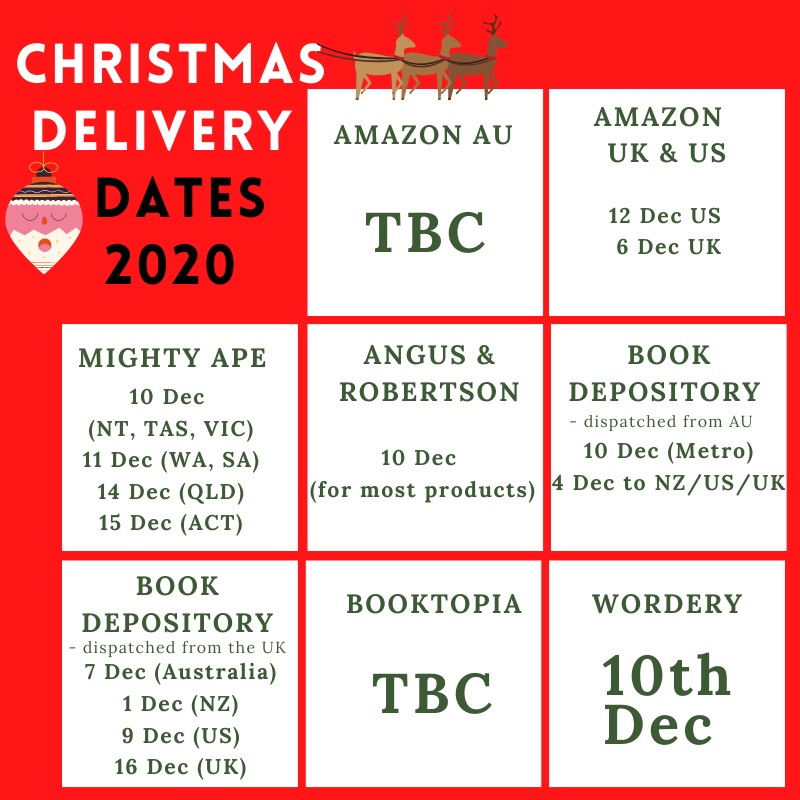 We'll keep an eye on key delivery dates and update the table when stores share their final dates.
Luckily we can make the festive season even easier and with a few clicks you can have your parcels delivered directly to friends and family overseas so you don't have to wrestle with ribbons and sticky tape. Some stores even offer the option of free gift wrapping (Readings is one store offering this). You can read through the step by step guide for buying for friends and family overseas here.
There are three top tips to keep in mind this festive season.
Make sure you order early to avoid unnecessary postage delays
Check the stock levels before purchasing if you can (many websites have some fine print underneath the price to let you know if the item is in stock)
and finally double check the delivery details for the recipient – just in case you've sent your parcel to the neighbours instead!
While we were clicking we found six great titles that would make fabulous pressies this Christmas.
Code Name Bananas by David Walliams
Go back in time with bestselling author David Walliams for a whizz-bang epic adventure of action, laughter and secret plots along with the extraordinary friendship between a little boy and a huge gorilla that just might save the day…
1940. Britain is at war with Nazi Germany. Eleven-year-old Eric spends his days at the place that makes him most happy: London Zoo. And there's one animal in particular he loves: Gertrude the gorilla. With bombs falling all over London, Eric must rescue Gertrude. Together with his Uncle Sid, a keeper at the zoo, the three go on the run. But while hiding out at the seaside they uncover a top-secret Nazi plot… Join David Walliams on this action-packed, laugh-out-loud adventure for all the family!
Hollowpox: The Hunt for Morrigan Crow by Jessica Townsend
Something wicked is taking hold of Nevermoor. In Morrigan Crow's third Wundrous adventure, she faces her most dangerous challenge yet. Morrigan Crow and her friends have survived their first year as proud scholars of the elite Wundrous Society, helped bring down the nefarious Ghastly Market, and proven themselves loyal to Unit 919. Now Morrigan faces a new, exciting challenge: to master the mysterious Wretched Arts of the Accomplished Wundersmith, and control the power that threatens to consume her. Meanwhile, a strange and frightening illness has taken hold of Nevermoor, turning infected Wunimals into mindless, vicious Unnimals on the hunt. As victims of the Hollowpox multiply, panic spreads. There are whispers, growing louder every day, that this catastrophe can only be the work of the Wundersmith, Ezra Squall. But inside the walls of Wunsoc, everyone knows there is a new Wundersmith – one who's much closer to home. With Nevermoor in a state of fear and the truth about Morrigan threatening to get out, the city she loves becomes the most perilous place in the world. Morrigan must try to find a cure for the Hollowpox, but it will put her – and everyone in Nevermoor – in more danger than she could have imagined.
The Magpie Society: One for Sorrow by Zoe Sugg and Amy McCulloch
Illumen Hall is a boarding school of tradition and achievement. But tragedy strikes when the body of a girl, a student, is discovered – on her back is an elaborate tattoo of a magpie. For new student Audrey, it is just another strange and unsettling thing about her new surroundings. And for her roommate Ivy, well, she's just annoyed she has to share with the new girl from America. As an unlikely friendship develops, the two are drawn deeper into the mystery of this strange and terrible murder. They will discover that something dangerous is at the heart of their school. Welcome to The Magpie Society.
Gary Ablett: An Autobiography by Gary Ablett
Reliving key moments and events in his life, this memoir not only explores Gary's great success at the very top of the AFL, but also his journey to get there. Drafted in 2001, Gary's incredible career has spanned two great clubs, two Grand Finals and two Brownlow medals among many other accolades. In his book, Gary takes readers through the trials and triumphs of his life: his close bonds with his family; his famous father Gary Ablett Senior's influence on his life; joining Geelong Football Club along with his brother Nathan; becoming a star player and the pressure that brings from the media; taking on new challenges when he left his home town to join the newly minted Suns football team on the Gold Coast; becoming a captain and leading the Suns; dealing with injury and the pressure that you come under then; the joy of returning home to Geelong Football Club even though it was accompanied by a tragic family event; settling back in Victoria with his wife Jordan and baby Levi and a future that will no doubt always have football somewhere in it. Illustrated with many never-before-seen photographs from private collections, and including contributions from Joel Selwood, Mark Thompson, Gary's mum, Sue, and Gary Ablett Snr, this book is packed with images and stories that will bring the book to life and remind the reader of the many great moments in Gary's career. From childhood to his zenith as a player, Gary's story will be a book to read and re-read about a player without equal.
Speedy Bosh! by Henry Firth and Ian Theasby
BOSH! are back with over 100 mouthwatering plant-based dishes you can get on the table in 20 minutes or less The fourth cookery book from Sunday Times No.1 bestselling authors Henry and Ian, aka 'the vegan Jamie Olivers', packed with outrageously tasty, super speedy dishes made without meat, eggs or dairy, perfect for weeknight dinners after a long day, fast breakfasts to supercharge the family, or Sunday meal prep for the week ahead. In just 20 minutes flat, you'll be creating fragrant curries, hearty stews, comfort food for cold nights, indulgent puds, delicious tasty rice and noodle dishes, and one-pan wonders. No fancy kit, no out-there ingredients. You'll be able to get all the bits and pieces you need from your nearest major supermarket. Everything has been tried and tested and is bursting with flavour. Let vegan food never be called bland, because – honestly? – this might just be their tastiest collection of recipes yet as well as their quickest.
Skate Like A Girl by Carolina Amell
In ever-increasing numbers, girls and women are gathering at skate parks and competing in skateboarding events on nearly every continent. Filled with stunning full-colour photographs of 40 remarkable female skaters in action, this book pays homage to the incredible range of styles, ethnicities, and ages that make up a rapidly growing community. There's Emily Pross, one of the top downhill skaters in the world, who is known as the "fastest woman on four wheels," Lucy Osinski and Danielle Francine, cofounders of GRLSWIRL, a grassroots all-female skate community, and Bunga Nyimas Cinta, the youngest ever medalist at age 12 in the Asian Games in women's street. There are skate coaches, longboard dancers, skate filmmakers, and skateboard makers. You'll meet skaters who are mums, artists, models, surfers, and architects. What they all have in common is that skating is their way of life. Each profile offers its subject's own words of wisdom about going after your dreams, falling hard, and getting right back up. The book also includes pages of practical information on everything from skateboarding organisations that champion women, to crews, schools, and camps for girls all over the world. Filled with empowering images and inspiring words, this book will encourage girls and women of every age to get on a board and shred!
Enjoy!