With only 5 weeks until Christmas (oh yes, you read that right!), time is ticking to ensure your gifts reach family and friends who live overseas. But fear not, we are here to help. 
If you fancy purchasing a book, DVD or board game as a gift for someone living abroad, Booko has some clever functionality where you can purchase in their local currency and the gift gets shipped directly to the recipient. How great is that!
Here's what you do:
First off, jump online to Booko.
In the top right hand corner, there will be a flag (it's usually your local country flag). Click on this and all the countries that Booko works with will appear. Select the country flag that you want to send your gift to. What's great is that when you choose a different country, both the shipping charges and times are specific to that country (so it's easy to make sure your gift will make it in time).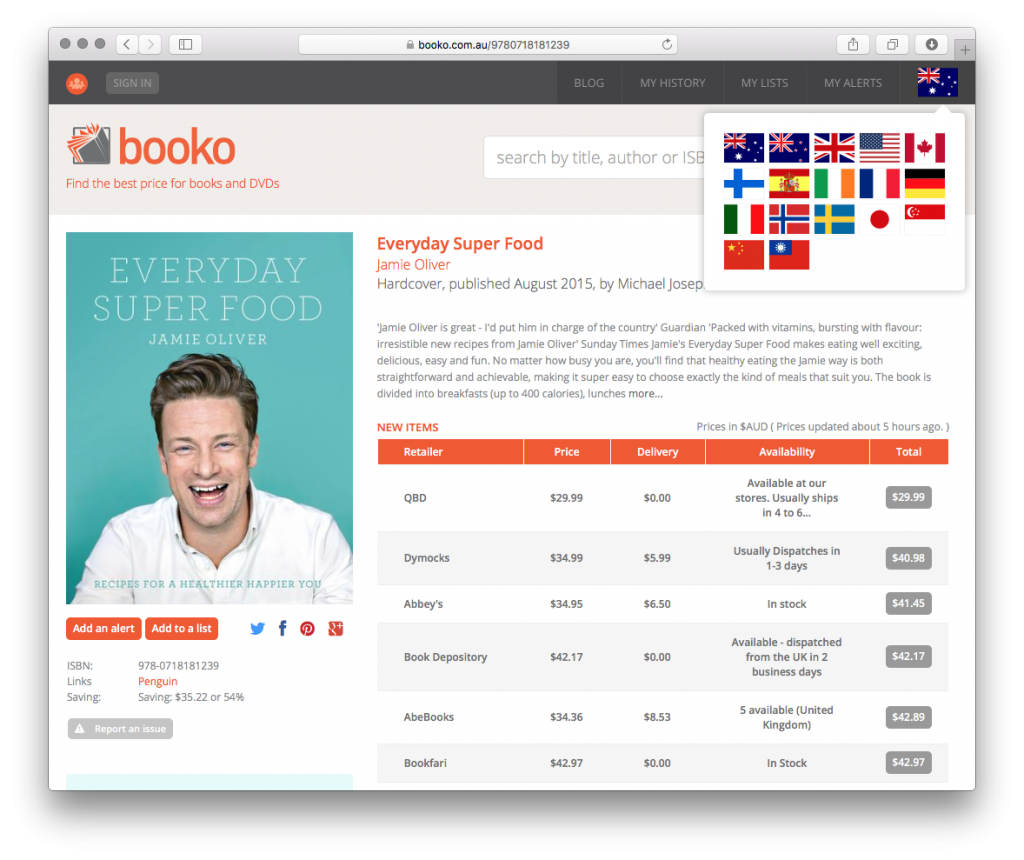 Let's have a look at an example…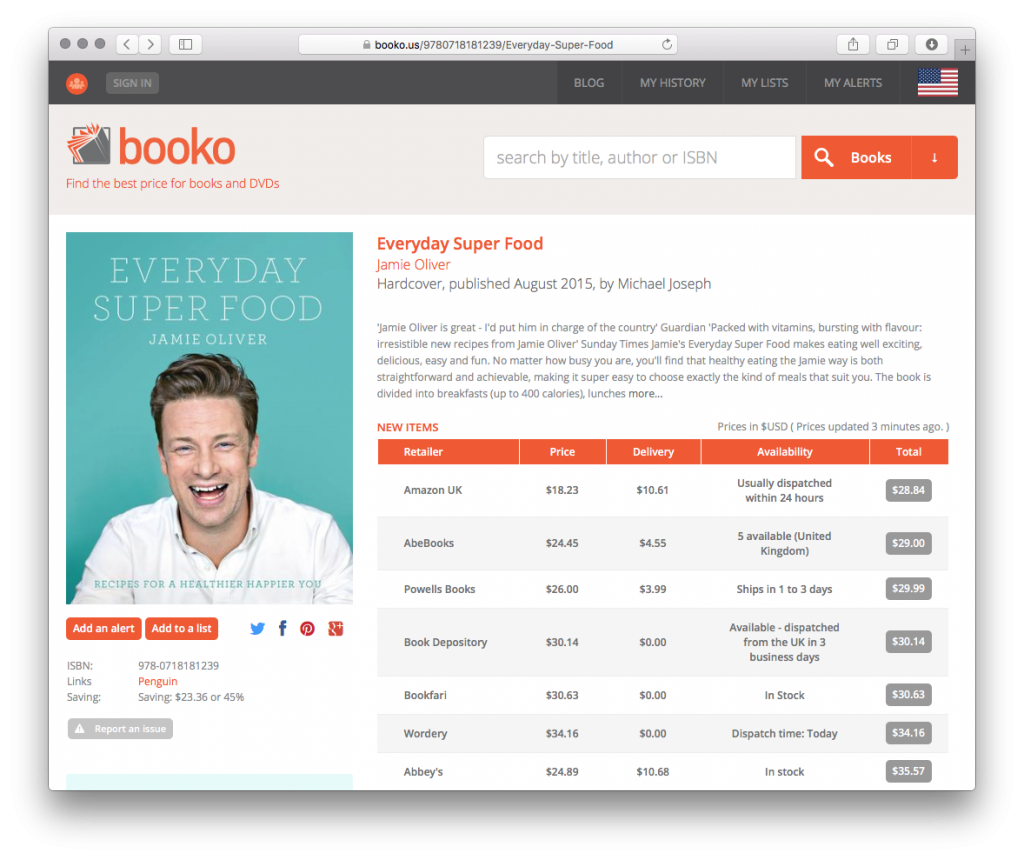 In the screen shot above we have selected the USA. From here, we will have a range of online booksellers that we can purchase from, just like you do when shopping in your local country on Booko. All prices and delivery charges have now been converted to USD. We can also see the shipping times involved.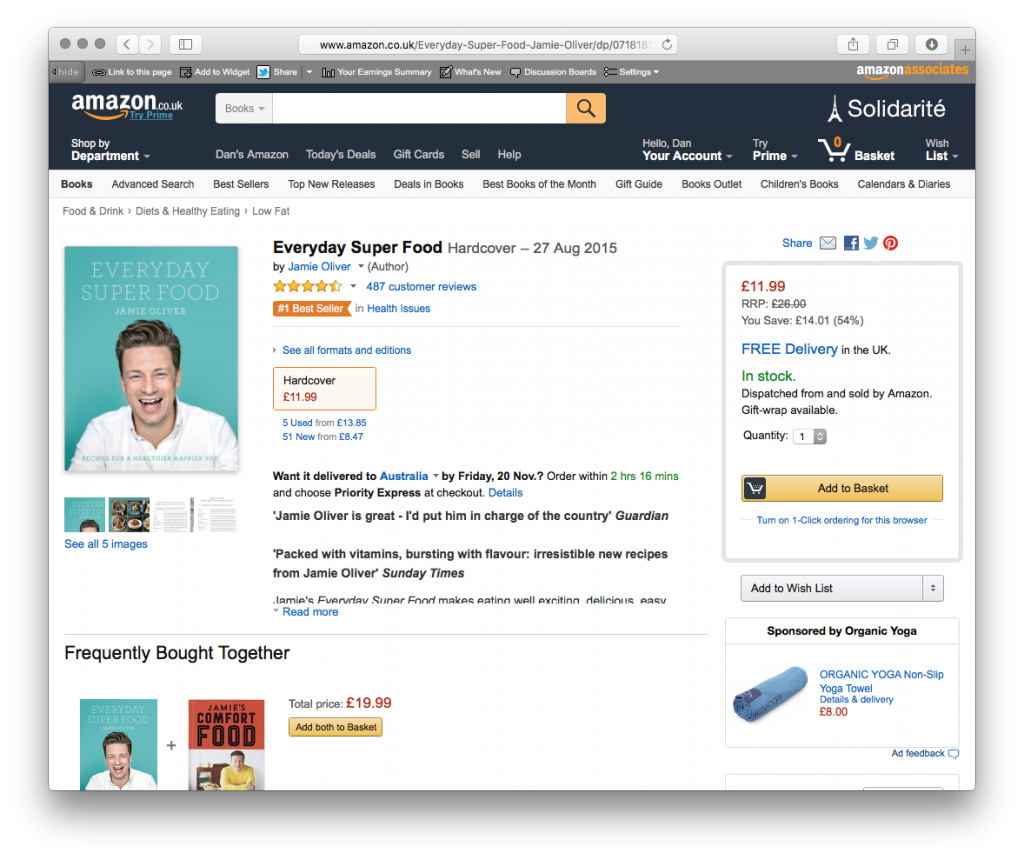 We decided to purchase this book from Amazon UK, which is based in the UK but ships globally.  Because it is getting close to Christmas, you may want to choose a book retailer that has speedy shipping times. It makes sense to get the book delivered directly to your family and friends, it saves on postage costs, postage times and it gives you greater security that it will arrive before the big fellow in the red suit!
Do remember that when shopping online it is important to keep in mind the delivery dates for the country you are sending to. We've made a handy little table to help you with this.
Last Order Dates for Christmas (using standard delivery)
Some stores have express delivery or even same-day delivery options; these details and further country information can be found by clicking on the store name.
(Just a little fine print…Booko cannot take responsibility for deliveries which do not arrive by Christmas so please check the delivery estimates when ordering).
Finally, if you end up missing the postie completely and there's no way a book, board game or DVD is going to arrive in time, then you always have the option of sending a gift voucher from one of the book stores. Gift vouchers are emailed directly to your recipient…which means you can sit back and pat yourself on the back for being clever this Christmas. 
Ho Ho Ho.