Mid-January is the beginning of the Back to School / Uni rush – which can be fun for stationery-addicts like me, but can also be a stressful time, with so many things to pay for all at the same time! Luckily, Booko can help lighten this load, and today we'll show you how to join other savvy students in using Booko to find the best prices for your textbooks. What's more, Booko has set-and-forget alerts and lists features that can help you organise future purchases!
Let's start by checking the price of this Accounting textbook: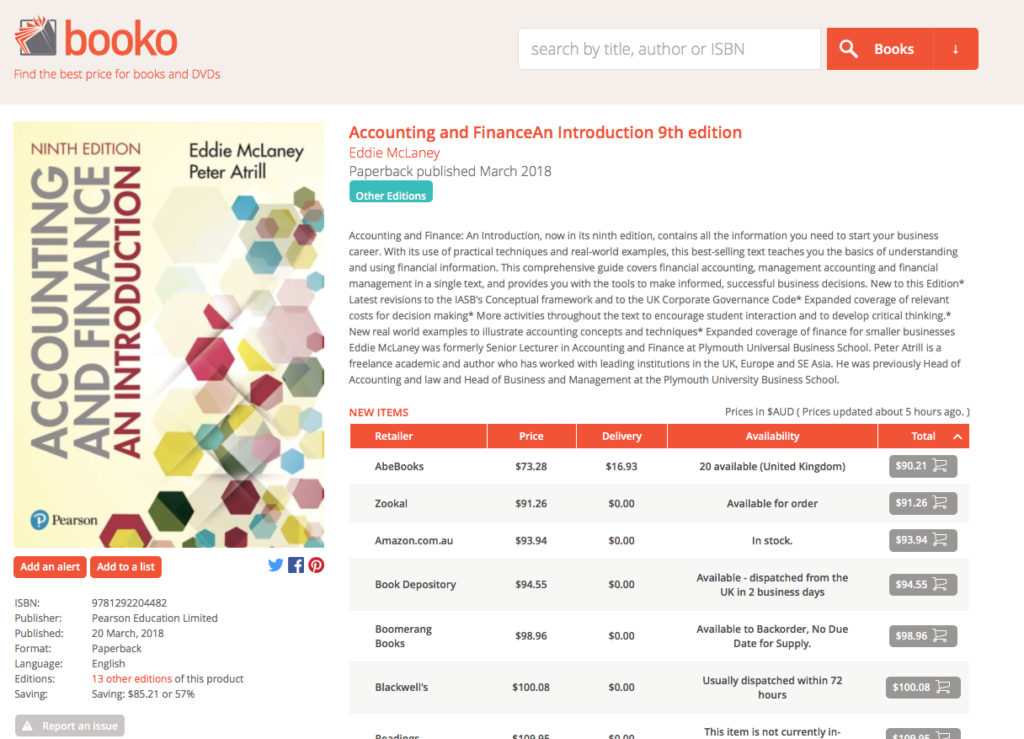 Booko's standard search finds you the best prices for right now. The first list of prices (with an orange heading) is for New copies; if you are interested in Used / second-hand copies, just scroll further down, and copies available will be listed in the second table (with a purple heading). Don't forget to check that you are searching for the correct edition!

Creating Alerts and Lists
For even better deals, Booko offers a set-and-forget Alerts and a Lists feature. Booko Alerts regularly checks the prices for your chosen items and will email you as soon as the price falls below the current (or a specified) level. It's a great way to monitor for sales. To set an Alert, first search for the book you want – if possible, use the ISBN to confirm the correct edition.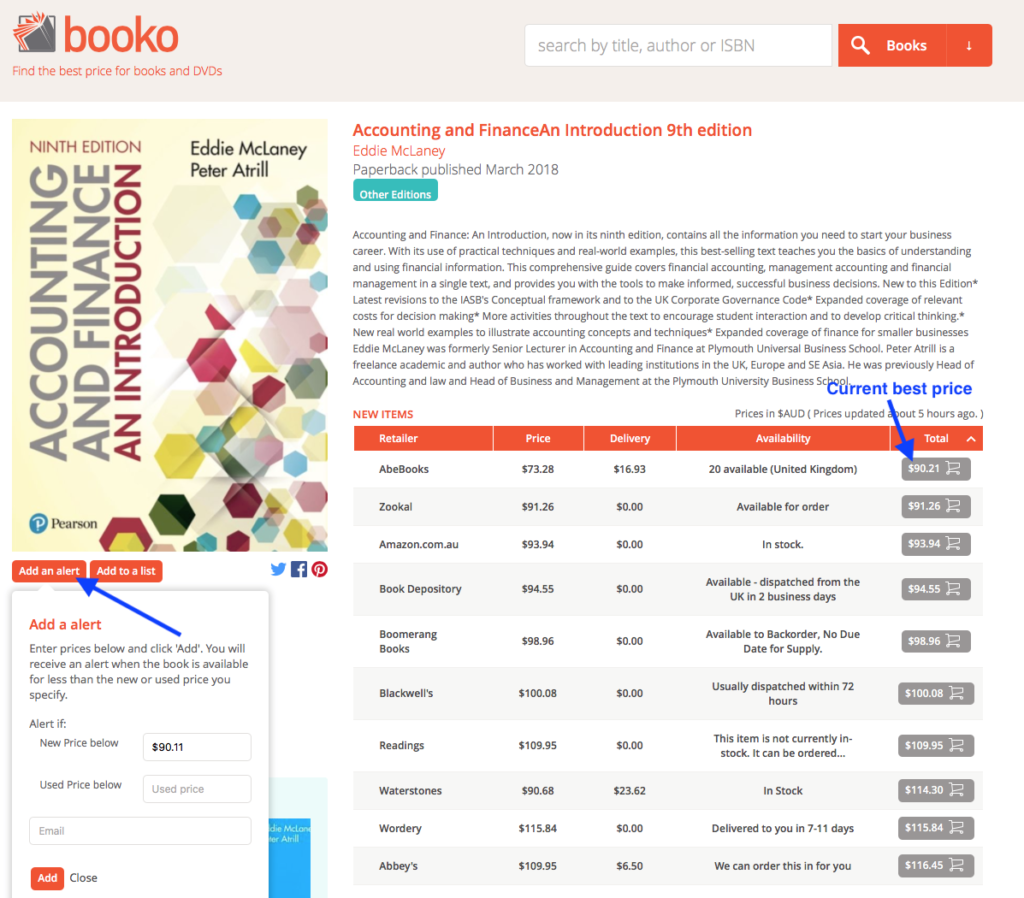 Using the accounting textbook again as an example, the top listing on the Right is the current best price. To create an Alert, click the Add an Alert button below the Cover Image on the left side of the page. Set your preferred price – and you can set separate prices for new and used books. Then enter your email and click Add. Now all you need to do is wait for the Good News email!
If you are logged into your Booko account, you can set an Alert faster, because you won't need to enter your email each time. A Booko account allows you to modify your alerts (delete or change target prices) more easily, as a list.

A Booko account also allows you to set up Lists. These help you sort and group the books you are watching for. To add a book to a list, click the Add to List button below the Cover Image (next to the Add an Alert button). This adds the book to your Wishlist (the default list for each Booko account). To create more lists, click on the My Lists tab on the Top Right of the page, then click the Manage Lists button.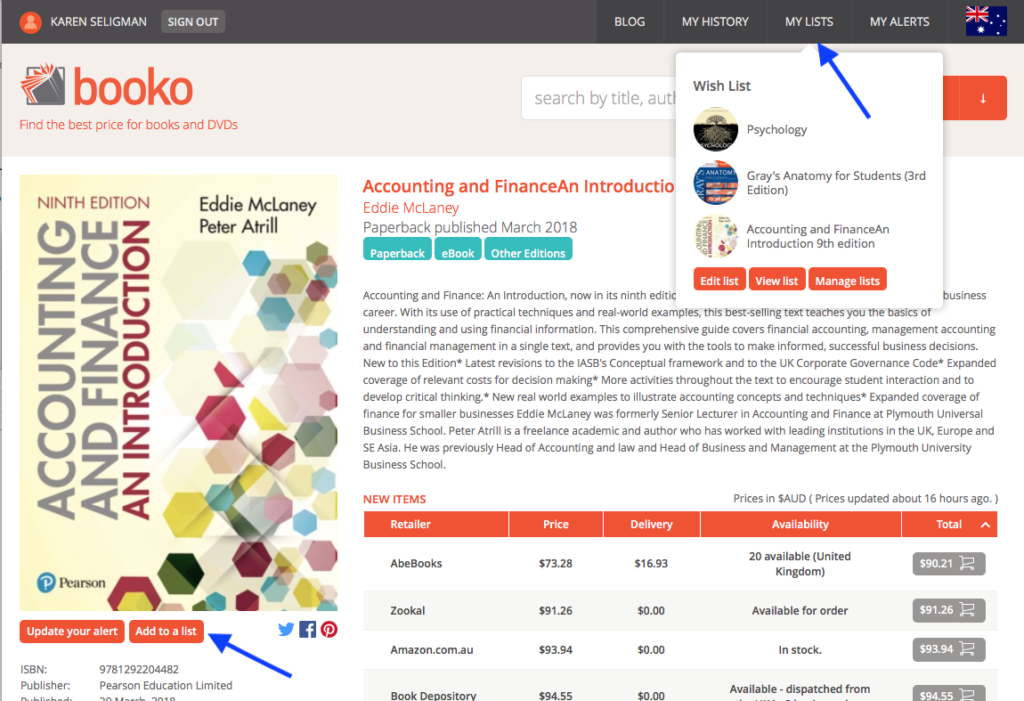 The Manage Lists option has several nifty features – here you create new personalised lists (A), View/Edit or Delete existing lists, or Export list data in a spreadsheet-friendly format (B). Booko will also tell you whether you can buy all your list items from a single store (C) – and do a price comparison as well.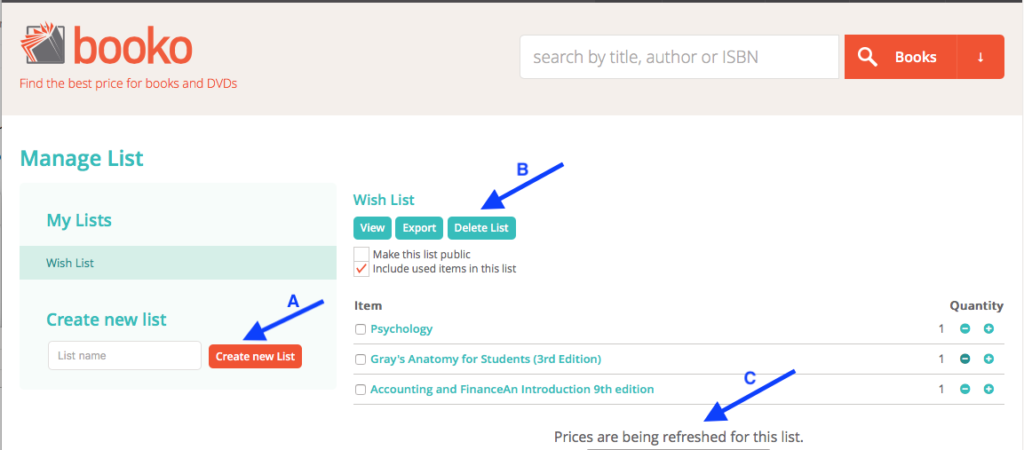 Booko Alerts and Booko Lists can help you minimise the time and money you need for your back-to-uni essentials – so that you'll have more time to relax before Term / Semester starts!