2015 has been a great year for DVD releases, so compiling this "Best of" list has been tough.  I have scoured the world to find these hilarious, absorbing, and downright gorgeous box sets.  Perfect for some downtime as we approach the frantic end-of-year period; these box sets also make excellent gifts – for a favourite someone, or just for yourself!
These titles hail from several different DVD/Blu-ray regions, so do check whether they will be compatible with your media players.  In many cases, an edition suitable for your country will be available.
Mad Men: The Complete Collection (Blu-ray and Digital HD) [Region A/1]
My absolute favourite is this Mad Men Limited Edition Gift Set, as stylish as the show itself.  23 discs containing all 7 seasons of the show, all previously-released special features and commentaries, plus over 4 hours of exclusive new special features including Cast Wrap Ups and Show Timelines.  And to get you into the spirit of things (pun intended), two handmade low-ball tumblers and four themed cork coasters.  All packaged in elegant black, white and red.  So pour that whiskey sour, settle into your mid-century armchair, and relive that Mad Men magic once more.  This gift set also comes in DVD format.  The complete final season (Series 7) is also available separately.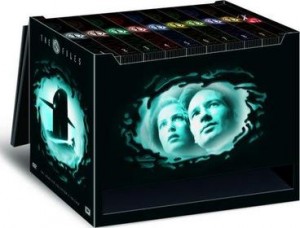 X Files – The Collector's Set (Blu-ray) [Region A/1]
As one iconic show wraps up, another is reborn.  The X-Files revival, a six-episode "event series", will premiere in late January 2016.   Helmed by original creator Chris Carter, David Duchovny and Gillian Anderson will reprise their roles as Mulder and Scully.  Will the new episodes be as good as the originals?  Inform your decision by revisiting the original show – a ground-breaker that has become a significant influence on media and pop culture in general.
This Collector's Set is the first time The X-File has been available in Blu-ray.  Containing the nine original series (202 episodes) plus over 23 hours of extras, the compendium box has also thoughtfully set aside space for the 2016 series.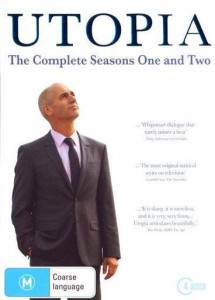 Utopia The Complete Series [Region 4]
Utopia is a deadpan satire about public service bureaucracy – however, such a simple description does not do it justice.  Think The Office with a dash of Yes, Minister.  Focussing on the fictional Nation Building Authority (NBA), Utopia shows how grand plans and great visions are compromised and eroded by red tape and political fickleness until nothing can be achieved.  A central irony is that the less the NBA achieves, the more it finds favour with the government.  The creators' observations are spot-on and eerily prescient, with some of the absurd-sounding story arcs coming true in recent months.  Its depictions of the frustrations of working life is so realistic that some public servants describe it as documentary.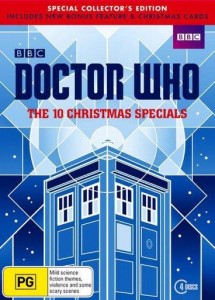 Doctor Who – 10 Christmas Specials [Region 4]
The Doctor Who Christmas Special is a highlight of Christmas TV viewing, and has become a tradition for many.  These stand-alone movie-length episodes often include big-name guest stars (Kylie Minogue comes to mind) and are a good introduction to the Doctor Who universe.  Bearing in mind that they are usually the most-watched episodes of the year, the show's writers often include key plot points into these stories, including new companions and Doctor regenerations.  So here is a collection of all ten official Christmas Specials from 2005-2014, starring Doctors Eleven to Thirteen (aka David Tennant, Matt Smith and Peter Capaldi). Each set contains a bonus gift – Christmas cards for Regions 2 and 4, while Region 1 is offering a sonic screwdriver!
Miss Fisher's Murder Mysteries Series 3 (Complete) [Region 1]
Take one gutsy, racy lady detective, put her in the glamorous Jazz Age, add a string of carefully-plotted mysteries, and you'll begin to understand why Miss Fisher's Murder Mysteries has become a favourite world-wide.  Closely based on Kerry Greenwood's beloved novels, the show has an enormously entertaining heroine, who is strong, independent and liberated.  The series is a visual feast, with acclaimed set and costume designs recreating the 1920s based on the author's meticulous research.  Series 1 and Series 2 DVDs are also available.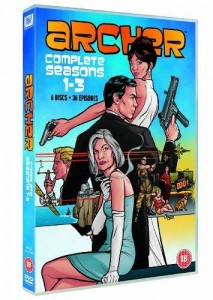 Archer Complete Seasons 1-3 [Region 2]
If you think James Bond is politically incorrect and gives spies a bad name, you probably haven't watched Archer. Sterling Archer is a suave, egotistical and highly accomplished secret agent.  He is also extremely dangerous because he is into espionage for the thrills and the jet-setting lifestyle.  The outrageous story arcs follow Archer and his spy agency colleagues, including his mother (who happens to be his boss), and his ex-girlfriend (who happens to be a fellow agent).  Archer is a fast and furious spoof of 60s/70s spy shows, mixing retro stereotypes with futuristic technology.  It is rude, violent and very funny.  Animation that is definitely not for kids.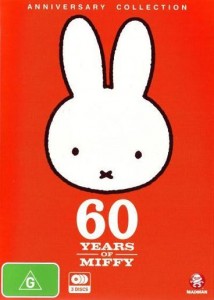 Miffy 60th Anniversary Collection [Region 4]
Miffy, the sweet little bunny star of books, TV series and a film, celebrates her 60th birthday in 2015.  Stories about Miffy and her friends are available in over 50 languages, and are part of many childhoods worldwide.  This 3-disc set contains episodes of the original TV animation series, that shows Miffy and her friends having fun doing, making and learning.  These are short, gentle stories that will engage even very young children.
Horrible Histories Series 1-6 & Specials Box Set [Region 2]
The creators of Horrible Histories know that grossness and jokes about bodily functions work for kids, and have used them to great effect in a show that combines music, comedy, and "the horrible bits of history".  Based on the books by Terry Deary, what started as children's edutainment grew into a ratings winner with a cult adult following, picking up many awards along the way.  Horrible Histories is subversive, satirical, and has an impressive cast and creative team drawn from the UK comedy scene.  This new box set contains the five original series, plus Series 6 (a reboot produced this year), as well as four Specials episodes.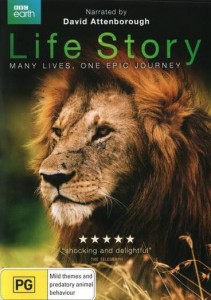 Life Story narrated by David Attenborough [Region 4]
Sir David Attenborough's documentaries are the gold standard in natural history broadcasting.  It is amazing that, after almost 40 years, he can still find fascinating stories and craft amazing footage to keep us riveted.  Life Story follows the journey from birth to parenthood, with each episode focussing on a different life stage, such as Growing Up, and Courtship.  We see the myriad challenges animals must face just to survive from day to day, and to reach their ultimate goal – producing and ensuring the survival of their offspring.  There's plenty of drama, pathos and humour to enrich the stunning visuals.