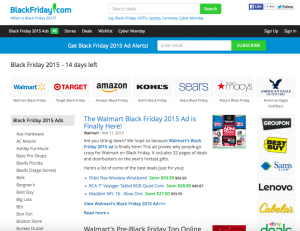 The name Black Friday was first used over 50 years ago by Philadelphia police offers to describe the crazy shopping day after Thanksgiving when the city was overrun with traffic flocking to Christmas sales.   This year, Black Friday is predicted to generate sales of $50b in the US (matching last years sales). While it's the biggest shopping day of the year in the UK, sales are expected to top £1b.
Black Friday is scheduled to take place on Friday, November 27 and a number of retailers have already started promoting their offers in preparation. If you want to do some research prior to the sale, visit this site.  (It's a US site but can give you a comprehensive overview of who is selling what).
While it can be a great time to purchase a new TV or laptop, it's also a smart way to do some of your Christmas shopping early. If you are thinking about purchasing books or DVD's for gifts, take advantage of the special offers available during the Black Friday sale. Here's how to make the most of the sale:
Make a list of all the books and DVD's you want to purchase using the Booko Lists functionality. Booko Lists is a great tool that can help you to plan and manage your purchases for a one off event (like Black Friday) or ongoing. We've written a handy blog on how to use Booko Lists or you can visit the page on our website.
If you've ever missed a sale on an item you really want, you'll know that it's not a great feeling! The Booko Alerts feature can help you avoid that happening to your book purchases.  When the price drops on a nominated title, Booko will email you with the new best price.  Booko Alerts work for DVDs and eBooks as well as printed books.  It is easy to use, and will help you get more out of your money! We've written a blog on how to use Booko Alerts or you can visit our website.
Here's to savvy shopping!