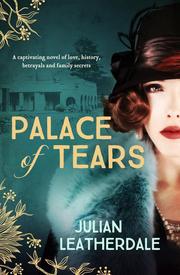 Palace of Tears is the debut novel from Julian Leatherdale. It is an historical, generational story, centred on a luxury hotel in the fictional town of Meadow Springs in the Blue Mountains and has all the elements of family passion, secrets and tragedy.
 Department store entrepreneur Adam Fox built the lavish palace based on luxury spa resorts in Europe. The story of the hotel intertwines with the story of the family who live in a cottage next door – much less well off than the wealthy Foxes but, over generations, sharing tragedies as well as love, hate and jealousy.
Initially I was daunted by the size of this book at over 500 pages, however Leatherdale achieves a good balance between educating and entertaining readers about events in Australia during the 1900's and early 20th Century.
I love that Leatherdale mixes fictitious elements with real events and actual people. Sir Arthur Conan Doyle, opera star Nellie Melba and Australian film makers and directors Raymond Longford and Lottie Lyall all visit Adam Fox's luxurious resort.
The author's historical research into some of the less familiar events of early 20th Century history made for very interesting reading and for me in particular, the internment of the Germans during the war years was fascinating due to my own family history. His references to events of that time and fictional activities surrounding it were amazing and his passion evident.
I think this book is well worth the read, and with summer coming and holidays, it would be one to put on the list.
I hope Julian Leatherdale writes more novels as I will be lining up to read them.