Two weeks till Christmas and still shopping for gifts?  Thanks to online shopping, you can access retailers from around the world, who can get your gift to your loved one in-time, even if they're overseas.  Booko can help you compare stock availability and delivery times across a range of retailers – and don't forget that express shipping may also be available. Just head to the Booko website, make sure the country flag at the top right hand corner is displaying your required destination (click on the flag to display and change options), then search for the item you want.  Booko will display prices and availability in the results table.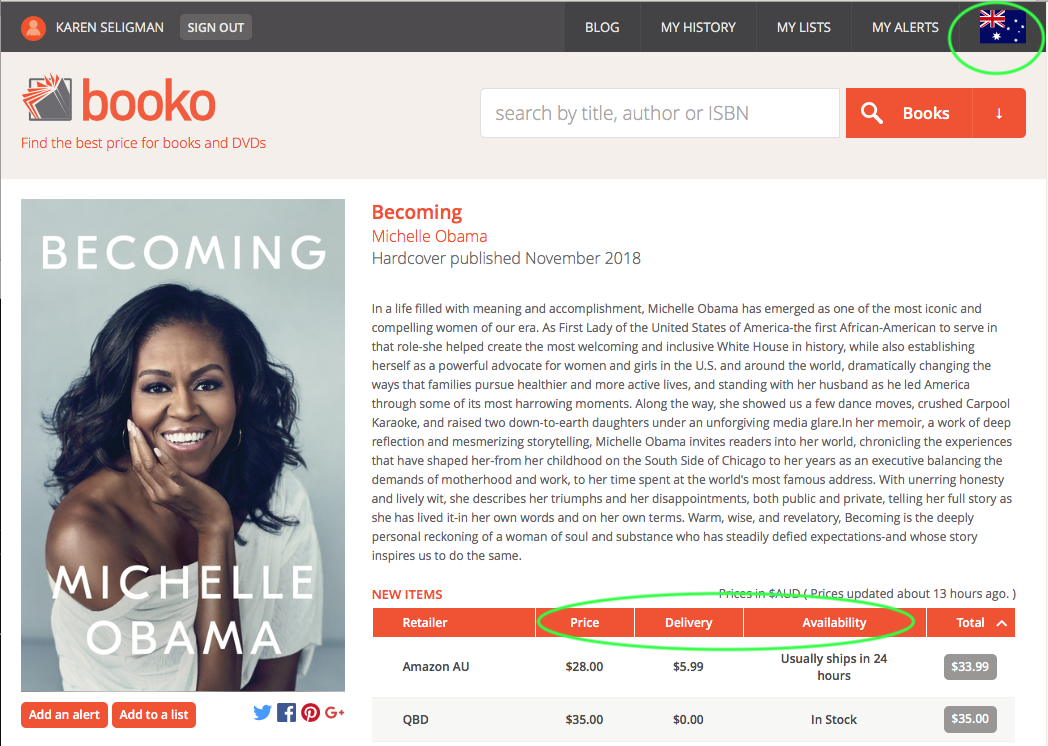 More details about buying for overseas deliveries are in our handy guide here.
Booko can help you find the best prices and fastest shipping for books, DVDs, games and even jigsaw puzzles ! Here are some more last-minute gift ideas:
Gift this to your loved one, and you may be helping them check off several life goals at the same time.  Both gardening and cooking are great for our wellbeing – encouraging us to slow down, get outdoors and live in the moment.  Slow Down and Grow Something combines the horticultural skills of Byron Smith and cooking skills of Tess Robinson to offer us lots of tips on how to create your own food oases – whether you have a big backyard or just a few pots in an apartment.  Then make the most of your harvest with delicious recipes that you can enjoy on your own, or share with your friends (another boost for our mental health!).
The Guinness World Records makes a classic gift – this is a perennial favourite for school-aged children!  Kids just love quirky and amazing facts (and reading them will quietly broadening their knowledge of the world).  It is also a thoughtful choice for reluctant readers – kids who find it difficult to enjoy "chapter books" or novels may enjoy the short, easy-to-dip-into format, the non-fiction focus and the colourful, lavishly illustrated pages.
The eye-catching Azul board game is the well-deserved winner of this year's Game of the Year (Spiel des Jahres) award, and has been described by game reviewers as an "Instant Classic".  Azul's beautiful visual design is inspired by the intricate patterns on azulejos, Moorish decorative ceramic tiles from Spain and Portugal.  Azul is an abstract strategy-based game that is governed by simple rules, yet delivers surprisingly complex game play.  This family-friendly game is suitable for 2-4 players, aged 8+.
Sushi Go is a popular card game that is easy to learn and fast-playing, great for kids on their own, or multi-age groups such as family gatherings.  Make the most points by collecting different types of sushi and desserts!  The cards are colourful, with cute sushi characters, and come in a sturdy metal tin that is perfect for taking along on holidays.  For 2-5 players, aged 8+.
Theodore Gray's The Elements is a coffee-table book that combines the best of science and art – it is a tour through the chemical elements of the periodic table, in a stylish format, lavishly illustrated with photographs of objects associated with each element.  This million-copy bestseller has inspired two sequels (Molecules and Reactions), apps, jigsaw puzzles and even quilts!  This 1000-piece jigsaw puzzle shows the full periodic table as displayed in the book.  The finished item measures approximately 92cm x 41cm.
Gift vouchers/cards/certificates can be a real life-saver when you have no time to shop – vouchers are emailed immediately upon purchase, either to you for printing, or directly to the recipient. So all you need is a few minutes to click through and complete the purchase!  Delight children with the ability to "go shopping" for exactly what they want; or introduce a loved one to the huge range on offer in an online bookstore.  Booko has a list of bookstore gift voucher options here.