Booko users now have an awesome new feature: price alerts.  If you're logged into Booko, you'll see see some new text on product pages – "Click here to create an alert for this product".  Clicking this will allow you to set an alert price. If Booko sees this product at or below your alert price, it will email you to let you know.
You'll also find a new Manage Alerts section in the User Menu on the left hand side. This is where you can modify the alert price, as well as activate, de-activate or delete an alert.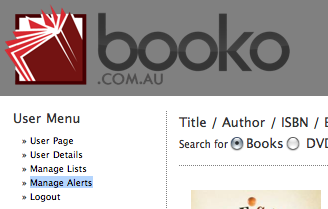 Booko is set up to check the prices daily, but we may push that out to weekly if the load gets too high.  If you're interested in what's popular, the top 50 alerts can be seen here.