How do I love thee, tales of romance?  Let me count the ways – I love your strong, smart, vibrant heroines; I love your handsome, witty, sensitive men; I love your exotic locales and eras, and I love the grand passions, just as much as I love the quiet tendernesses.  And I love knowing that I am not alone in my devotion.  In honour of Valentine's Day, here are some wonderful stories that have made us swoon over and over:
The appeal of Pride and Prejudice  is phenomenal: 203 years after first publication, it remains one of the best-loved novels in English literature.  The story of how proud Mr Darcy and judgmental Lizzie Bennet overcome their mutual dislike to recognise each other's worth is tender and heartwarming; add a cast of brilliantly drawn secondary characters and the story is enriched by sharp satire about money, status and sexual politics.  Many adaptations and updates of Pride and Prejudice are celebrated in their own right, including the TV mini-series starring Colin Firth (still considered by many to be the definitive Mr Darcy).
If you love Pride and Prejudice, try Frederica by Georgette Heyer
If you love the Regency era of Jane Austen and her creations, stay a while longer through Georgette Heyer's novels.   Georgette Heyer singlehandedly created the Regency Romance genre; she evoked Georgian England vividly, through her staggering knowledge of period minutiae.  Her 50-plus novels are witty, dramatic and fast-paced and feature a wide variety of winsome lords and ladies.  A personal favourite is Frederica, a subtle and mature romance where a world-weary hero loses his cynicism and finds love when he meets the irrepressible Merrivale family.
Out on the wily, windy moors, a boy and a girl fall into deep, all-consuming love… Heathcliff's tortuous, obsessive relationship with Cathy in Wuthering Heights is heightened by its unrequited nature and the story's bleak moorland setting.  The tempestuous emotions – passion, vindictiveness, grief – resonate with many (especially during their hormonal teenage years).  You may not think Cathy and Heathcliff are nice or pleasant characters, but you will not forget them.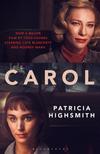 If you love Wuthering Heights,
try Carol by Patricia Highsmith
Written and set in the conservative 1950s, a sense of doom hangs over the growing attraction, and ultimately love, between beautiful, sophisticated Carol and young, lonely Therese.  Even when they acknowledge their feelings for each other, unease lingers about whether this forbidden romance can last.  In fact, Carol's tentatively optimistic ending represents a shocking twist at a time when lesbian stories usually end in mental breakdown and/or suicide.  A tense and absorbing story, now an acclaimed film starring Cate Blanchett and Rooney Mara.
Gone With the Wind is a historical novel with a thoroughly modern sensibility – Scarlett O'Hara is determined, assertive, tough, but also selfish and wilful; Rhett Butler is an anti-hero with dubious morals.  Their passionate but difficult relationship has influenced our collective understanding of a grand romance, assisted by its backdrop of incredible wealth and its subsequent destruction during the Civil War.  A true epic both in length (1000+ pages) and scope.  Pair this book with the sumptuous visuals of its celebrated movie adaptation.
If you love Gone with the Wind, try Katherine by Anya Seton
Although Katherine Swynford plays an important part in British history – she is an ancestress of Plantagenet, Tudor and Stuart royals – she was relatively unknown until the publication of this mesmerising love story.  Katherine, daughter of a minor knight, catches the eye of John of Gaunt, Duke of Lancaster; an emotional connection eventually blossoms into love.  This love is tested during a tumultuous time of war, plague and revolt; ultimately it triumphs when, in a scandalous move, John of Gaunt marries Katherine as his third (and final) wife – over 20 years after she becomes his mistress.  Anya Seton's story is so iconic that Alison Weir's biography of Katherine Swynford contains a chapter analysing Anya Seton's version of the story.
Stories of first love are often tender and heart-rending – none more so than John Green's The Fault in our Stars.  Gus and Hazel are teens who meet in a cancer patients' support group.  They are funny and philosophical, and refuse to be defined by their illnesses.  They bond over books and witty repartee; they become each other's strength. Inevitably though, tragedy strikes.  John Green has created some incredibly appealing characters, and a skilful balance of comedy and tragedy, in this offbeat romance. Relive the laughter and tears in both book and movie form.
If you love The Fault in our Stars, try I Capture the Castle by Dodie Smith
I Capture the Castle's memorable first line, "I write this sitting in the kitchen sink", hints at the quirky delights within.  Styled as the journal of seventeen-year old Cassandra, the story follows her eccentric family, living in genteel poverty in a crumbling castle.  There's her father, crippled by writer's block; her stepmother, bohemian but surprisingly practical; and Rose, her beautiful older sister, desperate to escape their poverty by marrying well.   When two young, wealthy brothers come to claim ownership of the crumbling castle, romance and confusion ensues.  Cassandra's coming-of-age is dreamily and sensitively portrayed, and her unrequited love is agonisingly poignant!  I Capture the Castle is an underrated classic championed by authors including Joanna Trollope and J.K. Rowling.