We are mid way through the school holidays here in Melbourne and we thought it was the perfect time to let you in on a pretty cool secret. You can buy Lego through Booko. Oh yes, you read that right. Booko is now the clever way to buy Lego online!
What's super exciting is that our handy alert function (where you get to set the price you want to pay for a book or DVD) also works with Lego! So if you've been eyeing up a Lego version of James Bond's Aston Martin or Harry Potter's Hogwarts set or something else special for Christmas for an ultimate Lego collector, you can now log in, set a price for the bricks you're looking to buy and sit back while Booko hunts for the best price for you.
Here's a little guide to help you along with six of the most inspiring Lego books for budding brick master builders.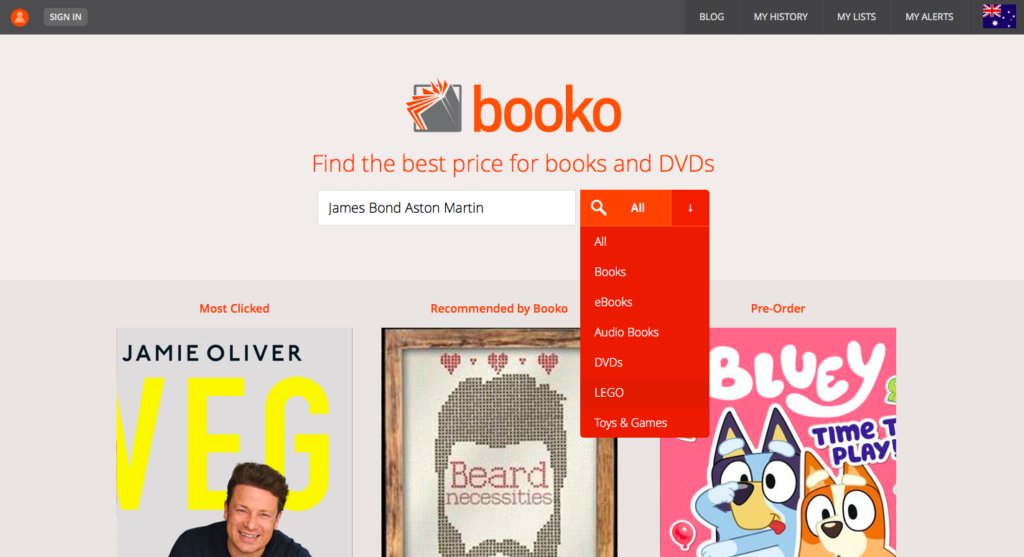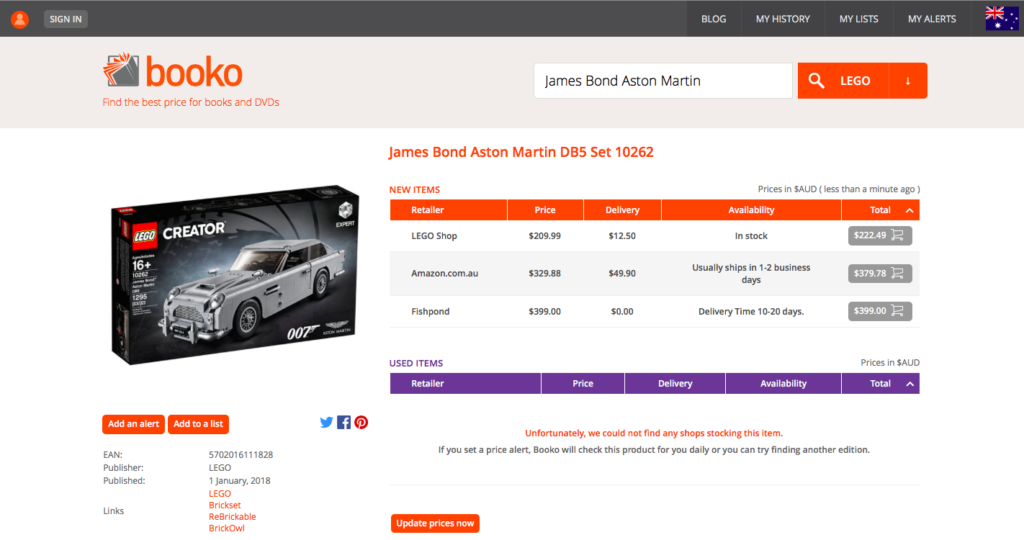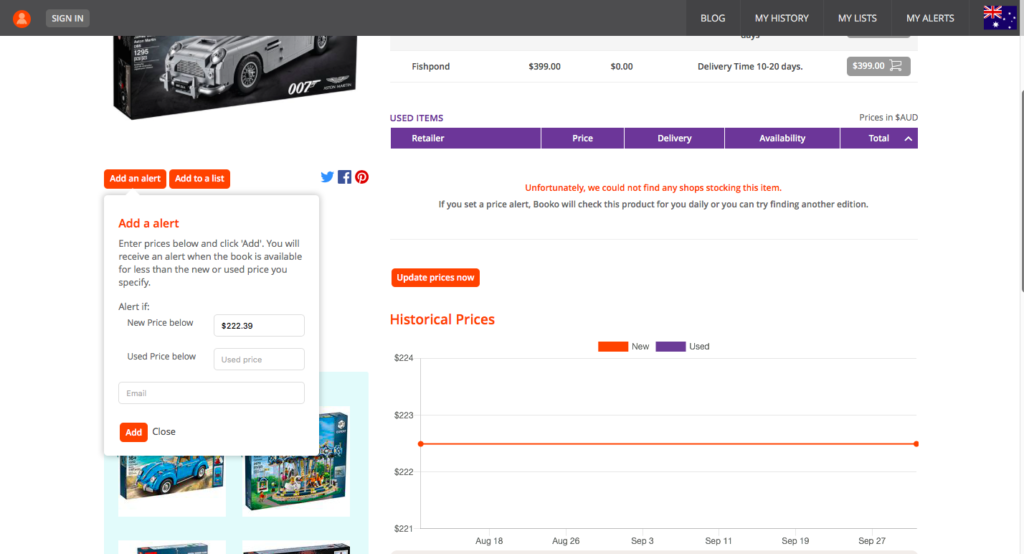 Lego Ideas by Daniel Lipkowitz
You have what it takes! Did you ever wonder what you can do with all of those Lego bricks after you have created the project they came with? Now with The Lego Ideas Book, you can take what you already have and make something new. This book is divided into six themed chapters; transportation, buildings, space, kingdoms, adventure, and useful makes, each with basic templates of key models and spreads to inspire you to create your own. Hints and tips from Master Builders can help you turn your classic car into a race car or add a bridge to your castle.
Don't be concerned if you haven't got all the bricks you need: this book also shows how to simplify details, making this a great user-friendly guide for any building ability. Featuring all-new Lego building projects, tips to supplement and enhance your Lego creations, inspirational builds, and expert advice from Lego Master Builders. The Lego Ideas Book will keep kids of all ages creating for hours.
Awesome Lego Creations With Bricks You Already Have by Sarah Dees
This book creates hours of fun, new worlds and new toys from the collection of Lego kids already have. Each project includes a parts list so you can verify that you have all the pieces and even buy supplemental pieces if you want, but most projects avoid specialty pieces and feature ones likely to be in most people's collections. The book engages kids with fun, kid-friendly language and cool facts about the things they are making. Like other popular Lego idea books, this book is packed with characters and life-like scenes, but takes the next step with detailed step-by-step instruction photos to help you build more complex animals, robots, vehicles and buildings. The book features full-size photos of life-like scenes that are simple enough for children to build on their own. Also included are a few no-instruction challenges where kids can create a unique toy using only the photo as inspiration. This family-friendly book is sure to spark the imagination for everyone.
365 Things to Do With Lego by DK (Dorling Kindersley)
365 Things to do with LEGO Bricks inspires you to look at your Lego bricks in new and exciting ways and enjoy Lego fun every day of the year. Featuring imaginative play and building ideas, from Lego games that take just a few minutes and require a handful of bricks, to inspirational build ideas and activities to keep you occupied for hours. 365 Things to do with Lego Bricks is packed with fun and quirky activities, such as: build your own Lego pet; challenge your friends to make the tallest Lego tower against the clock; and learn how to make a stop-motion Lego movie. 365 Things to do with Lego Bricks includes a countdown timer and activity selector, allowing you to choose an activity at random, to time your activities and to race against the clock.
The Lego Neighbourhood by Brian Lyles and Jason Lyles
In The Lego Neighbourhood Book, you'll create buildings with real world details like cornices and facades, and try your hand at interior design by filling your buildings with furniture and light fixtures. Then add the finishing touches to your models with plants, traffic lights, scaffolding, and park benches. Snap together a few houses, shops, and apartment buildings to create your own neighbourhood! Inside you'll find step-by-step instructions for four multi-storey buildings, dozens of inspiring ideas to use in your own models, mini builds for a recliner, old-time lamp post, traffic lights, and more.
The Lego Animation Book by David Pagano and David Pickett
Have you ever wondered what your toys would look like on the big screen? In The Lego Animation Book you'll learn how to bring your creations to life with the art of stop-motion animation. Before you know it, you'll be making your mini figures walk, talk, jump, and fly. Inside you'll find step-by-step guides for making your first animation, techniques for creating special effects like explosions and flying mini figures, acting methods for your mini figures and the secret formula for bringing inanimate objects to life The book also offers advice for dealing with practical problems like lighting, framing, and capturing consistent photos. Along with building ideas for Lego-based camera dollies and rigs there are instructions and inspiration on the filming process, from storyboarding to post-production, recommendations for cameras, software, and other essential animation tools This book will help you dive into the world of animation and discover a whole new way to play!
Lego Minifigure: Year by Year: A Visual Chronicle by Gregory Farshtey and Daniel Lipkowitz
One of the most iconic toys happens to have the cutest little people – the Lego Mini Figure. This book features more than 2,000 of the most significant, popular, and rare mini-figures, this engaging reference guide explores mini-figures chronologically by theme. Fans will learn little-known facts about their favourite mini-figures in this first-ever publishing of the evolution of the famous Lego mini-figure. This visual history shows the evolution of this classic toy for the first time ever, with exquisite photography and fascinating facts about each and every mini-figure included.
Enjoy!